Wipe and swish - the cleaning ladies, 1997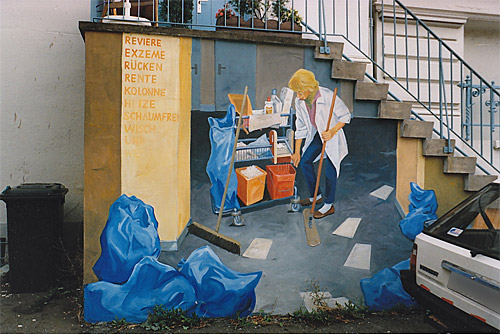 "Wipe and swish - the cleaning ladies"
Große Elbstraße 164, Staircase wall.
Design and realisation: Hildegund Schuster. 1997
Sponsors: R&S Baugesellschaft. Photo: Hildegund Schuster ©
The mural by Hildegund Schuster at the staircase of the building at Große Elbstraße 164 addresses a job that's often only seen if it HASN'T been done. In the port too, the "typical woman's work" of cleaning scarcely receives any attention. Actually, we wanted to use a wall of a building belonging to Fischmarkt Hamburg-Altona GmbH for the mural, but the senior management let us know that they didn't have any cleaning ladies there.
The artist has put the staircase wall to excellent use. In space covering just 11 sm, she uses the steps of the stairs to visualise the typical physical load of the job where women have to bend constantly when wielding their mops or carrying their buckets. What's more, they have less and less time to clean ever increasing areas: the stress gets even worse when time is breathing down your neck. Aggressive cleaning agents make eczema almost an occupational disease, with nothing more than a meagre rent to look forward to: commercial cleaning is usually done as a "two-hour job" by marginal part-time workers without any social security such as pension or unemployment insurance.
The picture shows the working zone in dull grey, while the bright blue of the waste bags and the white shades of cleaning agents and the cleaner's overall convey the visual signal of just cleaned, fresh and hygienic.
During the period while the mural was being painted, Hamburg had nearly finished its cost-saving measures to privatise and outsource cleaning work to other companies.(1)
The word strips on the left, emphasised as a bright contrasting wall support, serve to accentuate the topic of the mural. We read: areas, eczema, backache, pension, gang, chivvying, foam-free, wipe and swish.
© Elisabeth von Dücker, 2011
(1) By the end of the 1980s, HHLA (Hamburg's port and logistics operator) had no more than twelve permanently employed cleaning ladies, together with seven immigrant cleaners employed by a private company (information provided by a member of the HHLA Works Council).