Prostitutes, sex workers, 1995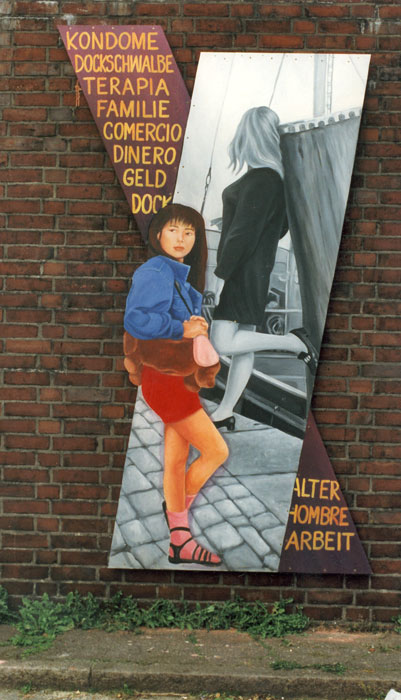 "Prostitutes, sex workers"
Große Elbstraße 164. Staircase behind the house.
Design and realisation: Cecilia Herrero.
Sponsors: Women's Working Party in the Museum of Work, R&S Baugesellschaft.
Photo: Hildegund Schuster ©
The fringes of the port are also where sex workers do their job. They are visualised in the fifth mural of the Women's Open Air Gallery.
When night falls, the area around the fish market and the western end of the Große Elbstraße becomes the terrain of street prostitutes. But actually, this fact has meanwhile nearly become history: following the immense transformation of the "harbour mile", giant office blocks and Elbe lofts have now taken over what used to be a commercial and fishing industry quarter. In 1995, kerb crawling and prostitution around the fish market still provided some kind of a livelihood for roughly 30 women, but today only isolated sex workers are still to be found here.(1)
The artist Cecilia Herrero from Argentina has presented her picture in the form of an X, the international abbreviation for sex.
On the left in the foreground we see a very young woman who represents Asian sex workers. In some places, they account for the largest group of prostitutes. She's got a cuddly dog handbag over her right shoulder. Together with her pink ankle socks, this indicates how young the sex worker is.
A historical port figure can be seen in the background: a blond woman with one leg bent at the knee in the typical posture of all prostitutes. She's leaning against a dolphin structure on the quayside, waiting for clients. The alley cat, as street workers are often called, is a pictorial citation from a photo taken in 1968 by Günter Zint, the famous photographer who documented everyday life in Hamburg's St. Pauli district.
No port without whores, that's another way of interpreting the picture, and indeed, bartering for sex always has been a major branch of the economy in port cities, alongside handling all kinds of cargo.(2)
In Hamburg at the moment it is estimated that 3,000 women (approx. 80% of them from abroad) and approx. 1,000 men work as prostitutes for approx. 10,000 clients every day, generating daily turnover of about three quarters of a million Euro; on average, the sex workers are left with just 10% of their earnings. (3)
This is also revealed by the word strips: comercio – commerce, dinero - money (both Spanish), condoms, alley cat, terapia – therapy (Spanish), family, age, hombre – man (Spanish).
Sylvia knows all about it. She looks back on 30 years experience as a street prostitute in Hamburg, most of the time around the fish market. She has always been her own boss. Working as a prostitute enabled her to provide for her son and drug-addict husband. She says:
"About fifteen years ago there were roughly 70 women working the fish market; today, if there's five there that's a lot. The area has changed, it's now full of posh shops and there's lots of events going on. People walk through and say, hey look, there's a hooker. So no-one likes standing there any more, you get a bit fed up of telling people "Yeah, I'm a whore, I get paid for it".
The women have gone. There have even been times when I've stood here on my own all night long. The difference to Davidstraße on St. Pauli is that up there, it's up to you to lure the clients, while down here on the fish market, the clients do the soliciting. When you work in Davidstraße, you have a house, you have to pay rent, usually there's this nice guy at your side, in other words your pimp, and you usually have to work till six in the morning. If I've had enough at one o'clock, then I go home or do whatever I want. That's so important for me. Like I say, I'm my own boss.
In summer it's even fun to be standing outside in nice surroundings, scantily dressed and you earn more like that too. But it's dreadful in winter. It's draughty, there's always a wind going and your feet get wet and cold when it rains. There's nowhere to shelter. Sometimes you can't even go into a pub because they've got a private party or something. So you hang around for five or six hours just to earn a bit of money. That's when it gets unpleasant and hard, cold feet, cold legs, freezing all the time, you can't wait to get home and in the bath."(4)
© Elisabeth von Dücker, 2011
(1)Estimated by the counselling centres for prostitutes in Hamburg.
(2) For more information also about working and living conditions in the sex industry, see: Elisabeth von Dücker, Museum of Work (publisher): "SEX WORK: Prostitution: life worlds and myths". Bremen 2005.
(3) LKA Hamburg.
(4) Elisabeth von Dücker interviewed Sylvia in December 2004; for the complete text, see: Elisabeth von Dücker, Beate Leopold, Christiane Howe, Museum of Work (publisher): "Sex work: a world of its own". Berlin 2008, p. 176-183.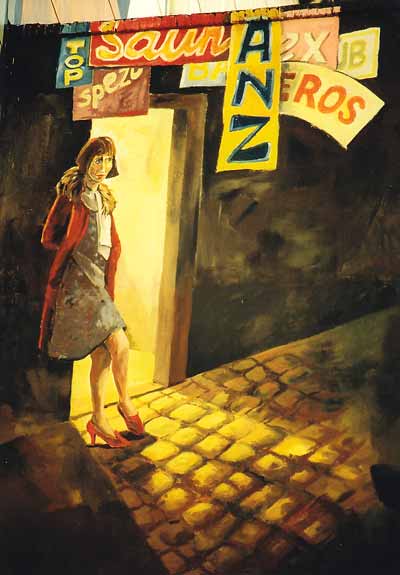 Detail of the mural dated 1989
Photo: Hildegund Schuster ©